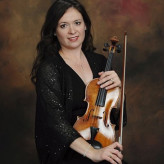 Jennifer Dunne began teaching in 1998 while still a music student at Northwestern University. She has since gone on to teach as the teaching assistant to the Music Academy Program at Northwestern University where upon graduation from graduate school she was invited to join the Music Academy Faculty in the summer of 2001. She had previously taught as Professor of Violin and Viola at Trinity International University and served as such for one year. Ms. Dunne taught simultaneously at the Music Institute of Chicago from the Fall of 2000 until the Spring of 2004 as a Chamber Music and Musicianship Instructor. During her 16 year tenure as Faculty Instructor of Violin and Viola and Chamber Music at the NU Music Academy, she taught individual and group violin and viola lessons in addition to chamber music.
Upon discovering a need for high quality string instruction on the Northside of Chicago, Ms. Dunne started a string program in 2013 at the St. Gertrude Church primary school campus where she currently teaches group and individual lessons in violin and viola, as well as chamber music, to the youth of the surrounding neighborhood.  Students either study through the classes offered at the Northside Catholic Academy After-Care program or meet on an individual basis. 
Ms. Dunne started teaching individual violin and viola lessons for Whitney M. Young High School's Orchestral Program in January of 2018.
If interested in contacting Jennifer Dunne for lesson and class availability please download the Signature Ensemble Student Information Form  or submit your request via the Student Contact Form.